About
Balkampet Yellamma Temple is 15th century Temple of Hyderabad, One of the many famous temples of Hyderabad is the Balkampet Yellamma Temple. Situated among one of the developing suburbs of the city, Balkampet, the Temple draws crowds on Sundays and Tuesdays in particular. It is also much famous for the Bonalu Jathara celebrations that take place here. Bonalu is Hyderabad's most popular festival besides Ramzan.
The Balkampet Yellamma Temple is dedicated to Goddess Yellamma, literally means' mother of the universe' and that is exactly how the Goddess is regarded. Thus, the alternative name- Jaggadamba also. She is also believed to be the same as Goddess Renuka by some legends.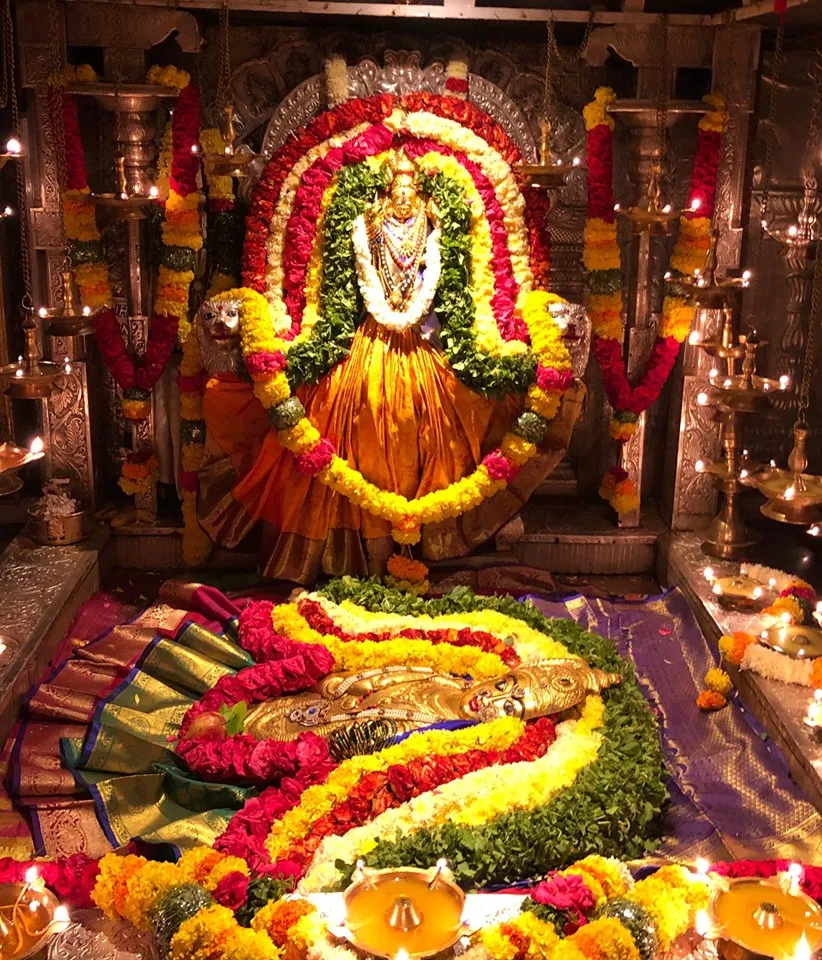 The other school of thought associates her closely with Renuka but distinguishes between the two. The story goes like this that Renuka, daughter of Raja Renuka was married to Jamadugni, the son of Satyawati and had five sons, one of which was Parshurama. One day, Renuka failed to perform one of her regular household duties and this angered her husband.
He asked her to flee and the troubled Renuka was advised by saints to perform pujas in front of a Shivalinga and feed Brahmins as part of her penance. Jamadugni remained furious at her and demanded that his sons also punish their mother. All but Parusharama refused. Hence, they were burned to ashes by the gaze of their father.
Parusharama set out with an axe to look for his mother who'd gone hiding in a village. When he found her, he beheaded her and along with her, the poor woman who'd been hiding her. Pleased by his son's obedience, Jamadugni granted him a boon. Parusharama asked for the lives of his brothers, his mother and the village woman to be restored. But in the process of joining back the bodies and heads of the ladies, the head of Renuka got restored on the other woman's head and vice versa.
Jamadugni accepted the lady with the body of Renuka and the other form came to be known as Yellamma- mother to all. She was devoutly worshipped by all Telangana people from then. Balkampet Yellamma Goddess is also believed to be an incarnation of Goddess Kali.
Timings to visit Balkampet Yellamma Temple
06:00 AM – 01:00 PM and 03:00 PM – 08:00 PM
Festivals celebrate at Balkampet Yellamma Temple
Navaratri, Sravana Masam, Bonalu, JAthara, Ugadi
How to Reach Balkampet Yellamma Temple
By Air:  Hyderabad Airport – 36 km,
By Train: Secunderabad Railway Station – 8 km,
By Bus: Ameerpet metro station – 2 km, Balkampet bus stop – 0.7 km,
Address
Sri Yellamma Pochamma Devasthanam, Balkampet, Hyderabad, Telangana – 500038.
Official Website Of Balkampet Yellamma Temple
Telangana Official Website Of Balkampet Yellamma Temple
Also Read Place To Visit In And Around Hyderabad District
Balkampet Hotels Booking
Balkampet Yellamma Temple Map