About Beechupalli Sri Anjaneya Swamy Temple
Beechupalli Sri Anjaneya Swamy Temple is one dedicated to the god Hanuman (Anjaneya Swamy). It is located on the banks of River Krishna at about 30 kilometers downstream after Jurala Project in JOGULAMBA GADWAL district, Telangana.
According to the history, the temple was built 200 years ago with south Indian architecture. According to legends, the Idol of Lord Hanuman was installed by Sri Vyasaraja.
Gadwal rulers will conduct the religious chariot festival every year and support the temple. For every 12 years, Krishna Pushkaras are held.
As per the Hindu custom, the shores of River Krishna at this location are noted for carrying out obsequies to the departed souls.
A road bridge built in the 1950s helped trading between Rayalaseema regions of the Andhra Pradesh and Telangana. The bridge was one of the first connections between north India and south India.
The Beechupally shrine is near two islands on the Krishna River. A larger island Gurram Gadda village is about 10 sq.km area and is populated with farmers due to its soil fertility. A smaller island on the east side is called Nizam Konda.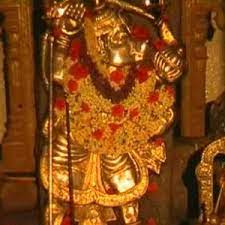 Timings to visit
6.00 AM TO 8.30 PM
Best time to visit
Hanuman jayanthi in April and Narashima Jayanthi in Vaishaka Masam.
Also in Monsoon season as the river flows high into the edges of the temple and looks beautiful.
How to reach
By Air: RGIA-Hyderabad Shamshabad Airport is the Nearest airport which is nearly 180 Kms from this tourist place.
By Train: Gadwal is the nearest railway station located at a distance of nearly 15 km.
By Road: The temple is located approximately 220 km from Hyderabad and 15 km from Gadwal Town and also easily accessible through Hyderabad-Bangalore National Highway No.44.
Address
Beechupalli Sri Anjaneya Swamy Temple, Beechupalli, JOGULAMBA GADWAL, Telangana, 509125.
Contact number: 1800-425-46464
Also Read About Government Official Website
Also Read About Places to visit in JOGULAMBA GADWAL District
Hotels Near By
Temple Map