About Hemachala Lakshmi Narsimha Swamy Temple-Mulugu
Hemachala Lakshmi Narsimha Swamy Temple-Mulugu is also called as Mallur Lakshmi Narasimha Swamy Temple. The temple is located in Mallur village of Mulugu District. The temple is from before the 6th century. The sage Agastya named the hillock Hemachala. People say that Ravana gifted this place to his sister Shurpanaka. This place is where Lord Rama killed nearly 14,000 demons led by Khara Dushana.
The idol is upto 10 feet. The temple is located in the midst of forest. The speciality of the idol is that the Belly part of the idol is as soft as human skin. If we touch the chest of the Idol with the finger, we can see the finger sinking into the rock without resistance. If we remove the finger, we can find the trench formed due to pressing and leaving the impression on the chest.
 The dwajasthambham at the temple is nearly 60 feet in height. There is a rock formed Ugra Anjaneya Swamy Statue near to the temple. The villagers believe that Anjaneya swamy present there act as Kshetrapalaka for the fields present at the village.
There is a continuous water flow near the temple, where its from the top of the hills. The temple has been renovated during Godavari pushkarams 2003. This temple is located approximately  90 Km from Bhadrachalam.
The temple will be closed from 5.30PM onwards as Lord Narasimha Swamy wanders around the temple and forest.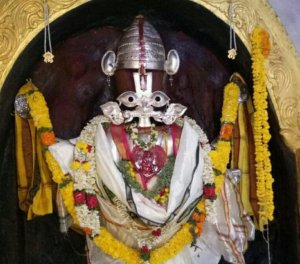 Timings to visit
8:30 AM to 1:00 PM
2:30 PM to 5:30 PM
Pooja's/Seva's performed
| | |
| --- | --- |
| Poojas/Sevas | Timings |
| Suprabhatam | 4am to 4.30am |
| Binder theertham | 4.30am to 5am |
| Bala Bogam | 5am to 5.30am |
| Nijabhishekam | 5.30am to 6.30 am |
| Archna | 6.30 am to 7.15 am |
| Darshanam | 7.15am to 11.30 am |
Best time to visit
Vaishaka Masam especially on Vaishaka Shudda Pournima, to glimpse the Brahmostavas.
How to reach
By Air: The nearest airport is Hyderabad, Shamshabad Airport which is 300 km away.
By Train: The nearest Railway Station is Manuguru
By Road: There are TSRTC buses from Bhadrachalam to Hanumakonda (via eturunagaram, manuguru), which have a halt at mangapeta on the road. Own Transport or Autos can be preferred from mangapeta to the temple.
Address
Hemachala Lakshmi Narsimha Swamy Temple, Mallur Village, Mangapet Mandal, Mallur, Telangana 506172
Also Read About Government Official Website
Also Read About Places to visit in Mulugu District
Also Read About Places to visit in Telangana
Hotels Near By
Temple Map