About Kuravi Veerabhadra Swamy Temple
Kuravi Veerabhadra Swamy Temple is in Kuravi mandal of Mahabubabad District. This temple is dedicated to Lord Veerabhadra swamy, who is fierce looking Deity with three eyes and ten hands.
About Sri Veera Bhadra Swamy
The Eldest son of Lord Shiva is Shri Shri Shri Veerabhadra swamy. His brothers are kala Bhairavar, Ganapathy, Karthikeyan and Swami Iyappan. The ultimate destroyer of ego.
History of the Temple
This temple is believed to be constructed by the famous ruler 'Bheema Raju' of Vengi Chalukya Dynasty in 900 AD and renovated by the Kakatiya ruler 'Betharaju-I. The reference of this temple has also made by the famous traveller 'Marko-Poli' as it stood as the capital of Vengi Chalukya Dynasty.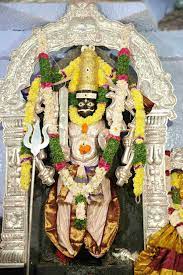 Timings to visit
4.30AM to 1.00PM
3.00PM to 7.30PM
Best time to visit
The annual jathra Brahmotsavams will be celebrated during the mahasivarathri Festival.
Every Monday and the Ashtami Thithi
How to reach
By Air: The nearest airport is Rajiv Gandhi International Airport, Hyderabad, 200 km, and the nearest aerodrome at Warangal 60 km, Vijayawada Airport (distanced approximately 150 km).
By Train: Mahabubabad is well connected to all the major cities in India by rail. Mahabubabad has one of the busiest railway stations in the Kazipet-Vijayawada route. Kazipet is the Zonal/Divisional headquarters. Kazipet/Warangal is about approx 70 km from Mahabubabad and is a major railway junction, which also includes a diesel-electric locomotive facility. Kazipet is also known as the GATEWAY TO NORTH INDIA. Famous trains which halt at this station include Charminar Express, Padmavathi Express, Satavahana Express, Intercity Express, Simhapuri Express, Golconda Express, Navjivan Express, Dakshin Express, etc. It is located 61 km from Warangal and 47 km from Khammam.
By Road: It is about 11 Km away from the Mahabubabad Bus Station. Mahabubabad is 180 km northeast of the state capital of Hyderabad.
Address
Kuravi Veerabhadra Swamy Temple, Thirmalapuram Road, Kuravi, Telangana 506105
Also Read About Government Official Website
Also Read About Places to visit in Mahabubabad District
Also Read About Places to visit in Telangana
Hotels Near By
Temple Map