About and History of Pandalam Valiya Koyikkal Temple
Pandalam Valiya Koyikkal Temple of Dharma Sastha is the family temple of the Pandalam royal family set in around 3 acres of land.  It is one among the 348 important temples of Kerala classified in 1811 during the rule of Travancore Diwan Colonel John Monroe.
The procession to reach the sacred 'Thiruvabharanam' of Sree Ayyappan starts from this temple here before the annual Makara festival.
The square shaped structure of this temple has brass metal roofing. To the south-west of the Sastha shrine is the shrine of Malikappurathamma.
'Thiruvabharanam' are sacred jewel-studded ornaments in gold, believed to have been offered to the Sabarimala Ayyappa Temple by the king of the erstwhile Pandalam royal kingdom, who was also the foster father of Ayyappa alias Manikanta, centuries ago. The palace managing committee displays the 'Thiruvabharanam' at the palace strong room during the pilgrimage season for the devotees to see the jewelry. The palace authorities will hand over the jewelry to the Travancore Devaswom Board on January 12. It will be taken in a ceremonial procession to Sabarimala for the Makaravilakku festival. Raja Raja Varma from Tripunithura is the royal designate escorting the procession carrying the 'Thiruvabharanam' to Sabarimala. The three wooden boxes will be carried to Sabarimala by an 18-member team of devotees led by the Guruswami, Kulathinal Gangadharan Pillai. The Tantri, assisted by Melsanthi, will put the jewelry on the Ayyappa idol prior to the 'deeparadhana.'
The 'Thiruvabharanam' will be taken back to Pandalam Palace in a procession from January 22.
Women between the ages of 10 and 50 years are not supposed to visit the shrine.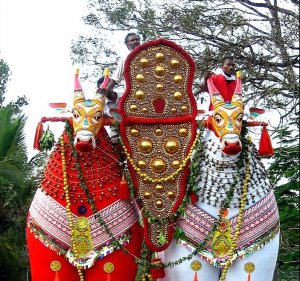 Timings to visit 
05:00 AM – 11:30 AM | 05:00 PM – 08:30 PM
Puja's/Sevas performed
Ucha Pooja: 12:30 PM
Usha Pooja: 07:30 AM
Athazha Pooja: 09:30 PM
To book tickets online : Free Entry
Best Time to Visit 
October to March
August to September & November to January – Peak Season
How to Reach 
By Air: Trivandrum – Trivandrum International Airport 126 km,
By Train: Chengannur Railway Station – 41 Kms, Kottayam Railway Station – 72 Kms,
Alappuzha Railway Station – 80 Kms
By Road: Pathanamthitta – 60 km, Sabarimala – 40 km, Kottayam – 51 km
Address
Pandalam Valiya Koyikkal Temple, National Highway 220, Pandalam Rd, Pathanamthitta District, Kerala 689501
Also Read About Places to visit in Kerala
Hotels Near By
Temple Map