About Ramanarayanam Temple
The temple was constructed by NCS Charitable Trust over 15 acres area based on Ramayana and temple which is designed like a Bow and arrow shape. It was established within 18 months, with the temple developed by Narayanam Chalamayya and sons, who are in the business and even in charity, philanthropic activities for the past few decades.
This 10-acre project aims to propagate the ideology of Sri Rama and to publicize Satya, Dharma to society. The entire story and history of Ramayanam were designed in the form of sculptures and idols. BaalaKaanda, Aranya Kanda, the episode of Lakshmana chopping nose and ears of Surpanakha, golden deer, etc; Every episode of Ramayanam is depicted by these colorful idols.
The construction of Rama Sethu, the war between Rama and Ravana, and bringing back Seetha to Ayodhya and every scene were designed on the walls here. Apart from this, the glittering Anantha Padmanabha statue also prints unmemorable images in our minds. The echoes of mantras come from the Veda Paathasala in the same premises.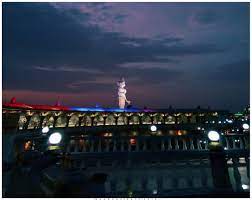 Timings to visit 
10:00 AM – 09:00 PM
Festivals celebrate at Ramanarayanam Temple
Sri Ramanavami, Maha Shivaratri
How to Reach Ramanarayanam Temple
By Air: Vizag Airport – 50 km,
By Train: Vishakapatnam Railway Station – 43 km
By Bus: Visakhapatnam – 45 km, Vizianagaram – 6 km,
Address
Sri karyam, Ramanarayanam Temple, Korukonda Road, Vizianagaram, Andhra Pradesh 535004, India.
Official  Website of Ramanarayanam Temple
Also Read Place To Visit In And Around Vizianagaram District
vizianagaram Hotels Booking
Ramanarayanam Temple Map