About Sanghi Temple
Sanghi Temple Presiding Deity Lord Venkateshwara swamy is same as the one at Tirumala.
The Ashtalakshmi temple is between the Balaji and Padmavathi temples. The temple of Lord Vijaya Ganapathi is next to the SriRama temple. Known as the remover of all obstacles, his blessings are invoked before commencing any activity. Residing on the left of the Balaji temple is Lord Siva or the destroyer among the trinity. This all-powerful Lord is seated on a lotus with a crescent moon decorating his hair and a trident in his right hand. Standing next to the Lord is Shakthi Swaroopini Kamalambika.
Further away is the temple of Goddess Durga. The dark moon-faced deity clad in a saffron robe has three eyes. Decorated with ornaments and hibiscus flower garlands, the Goddess holds a lotus in her right hand and the left hand reposes downward. The temple of Kartikeya is on the left of the Ganesh temple, fulfilling the tradition of his being on a hilltop. Holding a staff in his right hand and resting his left hand on his waist, the lion-clothed Kartikeya is like a Kalpavriksha fulfilling the desires of his devotees.
The Navagraha deities are the only ones that are in an open temple. Surya, the Sun God stands in the center and other Grahas surround him, each facing a direction over which he rules.
There is also a Pavitra Vanam or a Holy Garden in the temple complex where special leaves and flowers are grown for performing poojas. The complex also consists of a Kalyana Mandapam for Kalyanotsavam.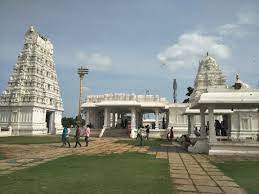 Timings to visit Sanghi Temple
08:00 AM – 01:00 PM | 04:00 PM – 08:00 PM
Festivals, Sundays, Holidays : 8 AM to 8 PM
Abhishekams
Monday: Ramalingeswara Swamy
Tuesday: Sri Hanuman, Sri Kartikeya
Wednesday: Sri Ganesh, Sri Radhakrishna
Thursday: Sri Padmawati, Asthalakshmi
Friday: Sri Balaji, Sri Kamalambika, Sri Durga
Saturday: Sri Rama, Navagraha
Kumkumrchana- Daily- Sri Kamalambika
Festivals are celebrated at Sanghi Temple
Ganesh Chaturthi, Navaratri, Shivaratri, Vaikunta Ekadasi, Janmashtami, Sri Rama Navami.
How to Reach Sanghi Temple
By Air: Hyderabad Airport – 38 km
By Train: Secunderabad – 34 km
By Bus: Sanghi Nagar – 1 km, Hyderabad – 38 km
Contact
Phone: +91-9391772975, +91-9491905077
Devasthanam Canteen is open for lunch 12:30 PM – 2:30 PM everyday
Address
Sanghi Temple, Sanghi Nagar, Omerkhan daira, Hyderabad – 501511, Rangareddy District, Telangana, India.
Also Read Place To Visit In And Around Rangareddy District
Official Site for Sanghi Temple
Hyderabad Hotels Booking
Sanghi Temple Map