About Sri Meenakshi Agasteswara Swamy Temple
Sri Meenakshi Agasteswara Swamy Temple is located at the confluence of River Krishna and Musi at Wadapally village. Wadapally was earlier known as Wazeerabad. The Temple was built in 12th century by Kakatiya rulers. The deity present here is Lord Shiva along with Goddess Parvathi and they are worshipped as Agasteswara and Meenakshi. Saint Agasthya installed the Shiva Lingam which is 6000 years old.
The speciality of this temple is there is a crevice at the top of Siva Linga. This is always with full of water and even on removal it maintains the same level. There is no logical explanation for this phenomenon as the temple is located at a height of about 120 metres from the river water level.
History
For thousands of years the Temple remained in dense forest. Once a hunter was chaging a bird and the bird hid behind the Siva Linga to save its life. Lord Siva appeared before the hunter and asked him not to kill the bird and offered him to take his brain and the hunter inserted his fingures on the head of the Linga for the purpose and in the process the crevice was caused. After the incident, Goddess Ganga elevated from the holes.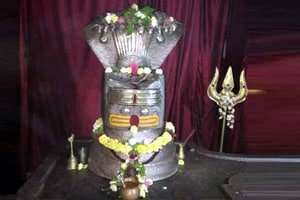 Timings to visit
7:00AM to 11:00AM
6:00PM to 7:30PM
Best time to visit
How to reach
By Air: Nearest airport is Rajiv Gandhi International Airport which is 174kms away
By Train: You can easily get regular trains to Nalgonda from other major cities of the country. Railway Station: Nalgonda
By Road: Nalgonda is well-connected to other parts of India with extensive rail and road network.There are regular buses from other major cities of the country to Nalgonda. Bus Station: Nalgonda
Address
Sri Meenakshi Agasteswara Swamy Temple, Wadapally, Nalgonda District, Telangana 508355
Also Read About Government Official Website
Also Read About Places to visit in Nalgonda District
Also Read About Places to visit in Telangana
Hotels Near By
Temple Map