About Sri Umarudra koteswara Temple
It was built with Salihundam Red Stone and the Architecture resembles the South Indian style. It is one of the 5 Shiva Temples, constructed on the Banks of River Nagavali by Lord Balarama. They are popularly known as Pancha Linga Kshetras in Northern Andhra Pradesh. The Temple is said to have been originally built about 5000 years ago. Recent modifications/ rebuilding was done in the Year 1774 by Sri Magatapalli Kamayya Setti of Konada Village in Vizianagaram District. Since the Year 2001.
In Dwapara Yuga, Lord Bala Raama instead of participating in the colossal Battle of Kurukshetra took a neutral stand in Kuru Pandava War. Unwilling to witness the impending destruction of mankind in the great War of Mahaa Bharat, Lord Bala Raama went in search of a Peaceful Place for Meditation. He crossed the Mountain Ranges of Vindhyas to enter South India and settled in the Padmanabha Mountains of Madhava Vanam in Dandakaranyam. Though he was looking for a Peaceful stay, he was moved by the Sufferings of the Local People by the twin effects of Demons, headed by Pralambasuti and Droughts.
Coming to know about Lord Balarama, the people approached and prayed to him to relieve them of the pains. He vowed to rescue the people and killed the Demon Pralambasura immediately. However, to relieve the people from the Natural Droughts and Famine, Lord Bala Raama concluded that Water is Life and Ganga has to be brought here. So, he took up his Divine Tiller and dug the earth and made a river to flow, which is now the Famous Nagavali River flowing in Srikakulam District.
He promised to bring Kasi Visweswara here so that people can serve the Lord and get Prosperity. With this Vision, Lord Bala Raama established 5 Shiva Temples on the banks of River Nagavali, which are now popularly known as the Pancha Linga Kshetras. These are
Sri Paayakeswara Swamy Temple
Sri Someswara Swamy temple
Sri Sangameswara Swamy Temple
Sri Umarudra koteswara temple
Sri Mani Nageswara Swamy Temple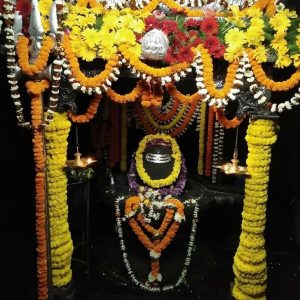 As per the Legendary Sri Uma Rudra Koteswara Swamy Temple, on the banks of River Nagavali in Srikakulam, is the Kshetrapalaka Temple of  Sri Kurma Shrine of Lord Sri Mahavishnu.
The Srikurmam Shrine, as per Puranas References, spread over a diameter of 30-kiloMetres from Srikakulam to Kalingapatnam and flourished with PanchaLinga Kshetras and Ashta Teerthas. Lord Balarama who took the Darshan of Lord Sri Kurma, visited this area Knowing about the Cosmic importance of this Divya Kshetram, He ordained that Srikurmam be the only Temple in the entire World for the Tortoise incarnation of Lord Sri Mahavishnu. Since the Darshan of Lord Sri Kurma was allowed only for Devatas.
So he constructed 5 Shiva Temples as Kshetra Palika Temples on the four borders of Sri Kurma Shrine, including one at the main entrance of Srikurmam Temple. After the Consecration of idols and observing celestial rituals, Lord Bala Raama allowed Humans to enter the holy shrine of Lord Sri Kurmanadha for a Darshan. So, Sri Uma Rudra Koteswara Swamy Temple, constructed by Lord Balarama 5000 years ago at Srikakulam, continues to be the Sub Temple of Sri Kurma Shrine.
Also, Legend says that one day Indra, a Hindu Mythological Demigod, came to worship  Lord Shiva in the ancient Uma Rudra Koteswara Swamy Temple near Srikakulam, a sub-Temple of the famous Srikurmam Shrine. He came in very late and Since it was inappropriate to seek Darshan after the closure of the Temple, he was refused entry by Nandeeswara, guarding the Shiva Temple. Filled with Arrogance and being ignorant of Lord Shiva, Indra began arguing with Nandeeswara for an entry, resulting in a scuffle. Angered at this, Nandeeswara picked up Indra in his horns and threw him away.
Indra fell unconscious at a distance of 2 yojanas to the east of Sri Umarudra koteswara temple. After awakening, Indra realized the Lord shiva. To get relief from his Sins, He consulted the Sages and was told about possible Planetary related Evil influences behind the Wrongdoing. So, to get relieved, he prayed to the Chief  Planet of NavaGrahas, The sun God Other Hindu Mythological Demi-God, for relieving him of his sins. Sun God appeared before him and advised Indra to construct a Temple for him, by digging at the place where he fell.
He did the same and found an Idol of Sun God, which he installed in the Sri Umarudra koteswara temple at Arasavalli. Later Indra performed all the Rituals related to relief from Planet-related Evil Effect and thereafter went to the Temple of  Sri Umarudra koteswara temple to have the Darshan of  Lord Shiva and attained Peace Of Mind. This Temple is now the famous Sun God Temple at Arasavalli. The Pond which was formed in this area eventually came to be known as Indra Pushkarini.
Timings to Visit 
05:30 AM – 12:00 PM | 04:00 PM – 08:00 PM
Festivals celebrate 
Karthika Masam, Maha Shivaratri
How to Reach Sri Umarudra koteswara temple
By Air: Visakhapatnam International Airport – 108 km,
By Train: Vizag railway station – 102 km, Amadalavalasa Railway Station – 14.4 km,
By Bus: Srikakulam Bus Station – 2.1 km, Visakhapatnam Bus Station Complex – 100 km,
Address
Sri Umarudra koteswara temple, Gudiveedhi, Chinna Bharatham Colony, Srikakulam, Andhra Pradesh, 532001, India.
Also Read Place Visit In And Around Srikakulam District
Srikakulam Hotels Booking
Sri Umarudra koteswara Temple Map