About Dharmapuri Lakshmi Narasimha Swamy Temple
Dharmapuri Lakshmi Narasimha Swamy Temple has two very different idols of Lord Narasimha Swamy, i.e., the oldest one (pata Narasimha swamy) and the later one (kotha Narasimha swamy). This temple is one of the most important settlements of Vedic Brahmins in the state.
The village of Dharmapuri earned spiritual importance because of the presence of the shrine which is dedicated to Lord Narasimha Swamy, an incarnation of Lord Vishnu.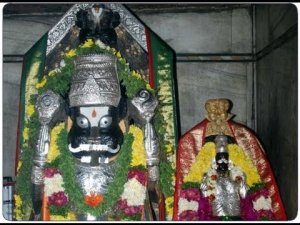 Timings to visit
05:00 AM–1:00 PM; 04:00 PM–08:00 PM.
Best time to visit 
Dharmapuri Lakshmi Narasimha Swamy Aalaya Jatara-March & April,
Vaikuntha Ekadasi
Ugadi
Sri Rama Navami
How to reach 
By Air: Rajiv Gandhi International Airport 273 kilometers
By train, Mancherial is 43 kilometers away, Jagtial Town is 28.6 kilometers away, and Karimnagar Railway Station is 64 kilometers away.
By Road: Jagityal is 31 kilometers away, Karimnagar is 78 kilometers away.
Address
Sri Laksmi Narasimha Swamy Devasthanam, Brahman Street, Dharmapuri, Jagtial, Telangana 505425
Also Read Official Website of Dharmapuri Lakshmi Narasimha Swamy Temple
Also Read Places To Visit In Jagtial District
Hotels Near By
Dharmapuri Lakshmi Narasimha Swamy Temple Map