About Domakonda Fort
Domakonda Fort is also called as "Gadi Domakonda" or "Killa Domakonda" or "Addhala Meda" (Glass house) as it houses a palatial mahal inside. It is located in Domakonda village of Kamareddy district, Telangana. It was built during 18th Century. It has an elevated compound of granite rocks that forms the fort wall, followed by a wooden door on an entrance door to the beautiful two-storied fort structure and is considered eye catchy even to this day.
The beautiful bungalow has a courtyard graced with a water garden pond and granite pillars drilled into earth, which guards this pond. The ground floor consists of arched pillars with intricate stuccowork showing the influence of Mughal architecture. The first floor has round pillars along with a flat ceiling, which depicts Western architecture. The fort is an architectural marvel to be explored and stands a testimony to the grandeur of Telangana heritage. To this day, the royal families of Domakonda exercise administrative control the fort.
Domakonda can be reached after taking a 4 km diversion main road on the way to Nizamabad from Hyderabad (NH7) and is situated at a distance of 100 Kms from Hyderabad. The Fort premises also has a Shiva temple built by the Kakatiya rulers.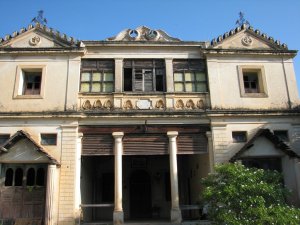 Domakonda Shivalaya temple 
The oldest surviving structure is the Shivalaya, Or Mahadev Temple, Which is believed to date from the kakatiyan period and is located to the east of the fort. This 750 to 800 year old temple was restored in 2006 with the help of the Department of Archaeology, Government of Telangana. It is currently a fully functional temple dedicated to Lord Shiva. Continuing with an age-old tradition, each year the citizens of Domakonda village gather at the temple to celebrate Shivaratri.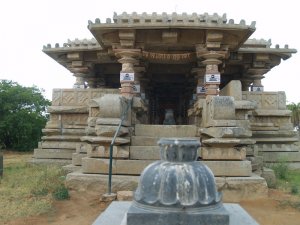 Timings to visit
10AM to 5PM
Best time to visit
Throughout the year
How to reach
By Air: The closest airport is the Rajiv Gandhi International Airport in Hyderabad, at a distance of 168km.
By Train:
Can reach Kamareddy from Secundrabad(SC) by travelling in a train. Secundrabad to Kamareddy train takes approximately 2 hours 15 minutes.
By Road:
You can take a car from Hyderabad to Kamareddy. It will take you around 2 Hours 45 minutes to cover distance of 117 kms and reach Kamareddy from Hyderabad, Kamareddy has bus services by state owned TSRTC to Secundrabad(JBS) and Hyderabad(MGBS).