About Gandhari Khilla
Gandhari Khilla which is also called as Gandhari Kota is a hill fort located near Bokkalagutta, in Mandamarri Mandal in Mancherial district of Telangana.
The Gandhari Fort is believed to have been built by tribal kings who ruled over this region, by taking assistance from Kakatiya rulers, some 1,000 years ago. It is located on the sand rock hills. The fort was built within a thickly forested area which has a wealth of plant species which includes many medicinal herbs. The fort has not been fully excavated and is still partially covered by forest. All the sculptures, gate and pillars were constructed in Kakatiyas style. By observing the decorations, the shanku and chakra, beside every sculpture we find that they are dedicated to Vishnu, while Kakatiyas worshipped Shiva.
It houses the ancient temple of Maisamma. Similarly, it contains idols of Kala Bhairava Swamy, Lord Siva, Lord Ganesh and Hanuman, idols carved out of rocks. Also consist of the eight-foot Naga Seshu idol comprising 10 heads, sculpted using a single rock.
There are three wells, which never dries up even during severe summer. There is also another well named as 'Yenugula Bavi' (Elephants Well). The well is designed in such a way that elephants and horses can quench thirst by reaching the well through steps.
Gandhari Maisamma temple is located at the fort.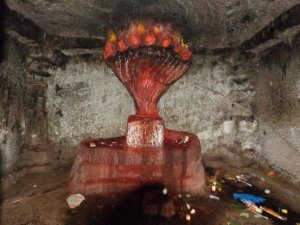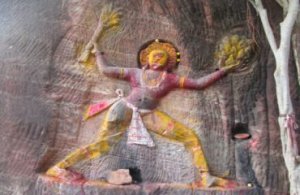 Mahankali Jatara
It is conducted every year which attracts more than 10,000 people. Gandhari maisamma jatra is done in the temple on the fort of Gandhari for every 2 years and tribal people from Vindhya region i.e maharashtra, Chhattisgarh on the other bankside joins it.The jatara was suspended in 1998 due to a murder incident that took place during the celebrations. The festival had returned in all its pomp in 2016 after 17 long years.
Timings to visit
9AM to 7.30PM
Best time to visit
Throughout the year
During Mahankali Jatara
How to reach
By Air: Nearest Airport is Hyderabad.
By Train: Nearest railway station is Mancherial
By Road: The Gandhari Khilla is located 13 kms from the Mancherial.
Address
Gandhari Khilla, Bokkalagutta, Mancherial District, Telangana 504207
Also Read About Government Official Website
Also Read About Places to visit in Mancherial District
Also Read About Places to visit in Telangana
Hotels Near By
Gandhari Khilla Map