About Golingeswara Swamy Temple
It was built by the Eastern Chalukyas in the 9th-10th centuries. The central shrine of Golingeswara has a wealth of iconographic material all around it, and 33 lines of Sasanam on the door jambs.
In the Mukhamandapam of the temple of Sri Golingeswara, two exquisite masterpieces of Eastern Chalukyas sculpture are preserved. One representing  Lord Siva and Parvathi in the form known as Alingana Chandra Sekhara Murthy and Ganesh.
The idol in the sanctum sanctorum is a Shiva Lingam made of black granite. The walls of the sanctum sanctorum are decorated with sculptures with pilasters. The Vimana above the Garbha Griha contains a row of pillars and a row of beams that ends at its base.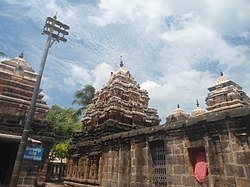 Timings to visit Golingeswara Swamy Temple
05:00 AM – 11:00 AM | 05:00 PM – 08:00 PM
Festivals 
Vinayaka Chavithi, Karthika Masam, Sivarathri
How to reach Golingeswara Swamy Temple
By Air: Rajahmundry Airport – 39 km, Visakhapatnam – 173 km
By Train: Kakinada Jn – 30 km, Rajahmundry Railway Station – 34 km.
By Road: Kakinada – 32 km, Rajahmundry – 32 km, Amalapuram – 60 km
Address
Golingeswara Swami Temple, Bikkavolu, 533343, Andhra Pradesh, India.
East Godavari Official Website of Golingeswara Swami Temple
Also Read Place To Visit In And Around East Godavari District
Bikkavolu Hotels Booking
Golingeswara Swami Temple Map