About Gudem Gutta Satyanaraya Swami Temple
Gudem Gutta Satyanaraya Swami Temple is a popular ancient and famous temple in the Mancherial District in the northern Telangana. This temple is located on the banks of the Godavari river. The deity present here is sri Satyanarayana Swamy. Sri Satyanarayana Swamy is usually known as God of truth. This temple also has The Lord Ayyappa Abhinava Shabarimala temple, which is built similar to the great Ayyappa temple of Sabarimala in Kerala.
Lots of pilgrims visit this place during 'Karthika Masam' to have a holy dip in Godavari river and perform "Satyanarayana Vratam/Puja".
The Vrathams form a part of the daily ceremonies for many devotees visiting this temple. The number of devotees reaches a peak on every full moon day as thousands of religious followers of Lord Satyadev gather together to be a part of various rituals.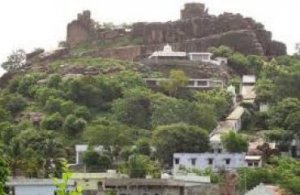 Timings to visit
5.00AM to 1.00PM
3.00PM to 7.00PM
Best time to visit
Karthika Masam
Sri Satyanarayana Swamy Kalyana Brahmotsavalu
How to reach
By Air: Nearest Airport Hyderabad(268 kms)
By Train: Nearest Railway Station Mancherial(34 kms)
By Road: The Temple is located 32 kms from the Mancherial.
Address
Gudem Gutta Satyanaraya Swami Temple, Gudem (V), Dandepally (M), Mancherial, Telangana 504215
Also Read About Government Official Website
Also Read About Places to visit in Mancherial District
Hotels Near By
Temple Map