About
Palakurthy Someshwara Laxmi Narasimha Swamy Temple
Palakurthy Someshwara Laxmi Narasimha Swamy Temple is dedicated to Sri Laxmi Narasimha Swamy and Lord Siva. This temple is on the hill inside a cave. 
The history says that the Rishis practiced penance here 1200 and 1300 years ago. Another story is that Someshwara was revealed here on the wish of the Sapt Sages. The cave can also be visited by sellers at the bottom of the hill is the tomb of famous poet ruler Someshwar. This is his birthplace.
When we enter into the inner chamber of the temple we can see two dwarapalikas which seems to be shiva in Nataraj Posture with damaru holding in one hand and the structure are made with black stone. At the entrance of the Shiva temple we can see Nandi bull graces.
Bommara Pothanna birth place is very close to Palakurthy. Sri Palkuriki Somanathudu was born here who developed Veera Shaivam. He is the first writer to do gadhya rachana in Telugu.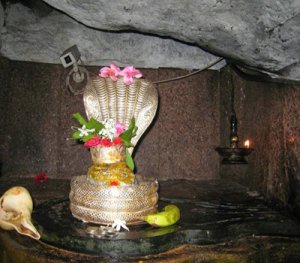 Timings To Visit
6.30AM to 7.30PM
How To Reach
By Air: The nearest airport is at Hyderabad, 80 kms away from Jangaon
By Train: The nearest railway Station is located at Jangaonat a distance of 25 km.
By Road: Well connected with district head quarter Jangaon
Address
Palakurthy Someshwara Laxmi Narasimha Swamy Temple, Dardepally, Palakurthy, Jangaon District, Telangana 506146
Also Read About Government Official Website
Hotels Near By
Temple Map