About 
Sri Durga Nageswara Swamy Temple is an ancient temple built in A.C.1140. It was later renovated by Challapalli Raja, Sri Yarlagadda Kodanda Ramanna in 1782.
The presiding deity Sri Nageswara Swami Varu is believed to be "Swayambhulingam" and worshipped with high veneration. Goddess Durga Ammavaru is the consort of the Lord and it is one among Navadurgas.
According to the Sthala Puranam, this is called Dhakshana Kasi on account of the several similarities when compared to Banaras. The river Krishna flows here towards North as river Ganges flows towards North at Banaras. There is Viswanatha Swamy temple at Kasi and there is Nageswara Swamy at Pedakallepalli. The kshetrapalaka at Kasi is Sri Bindu Madava Swamy, where is Sri Venugopala swamy at Pedakallepalli.
This kshetram is referred to as Kadalipuri or kadali kshetram in the Puranas. The present temple was constructed in the year 1982 A.D. by one Sri Somasivacharyulu, the Deputy of Pushpagiri Peetaem. The curvings on figures of Somasivacharya and his Upasyaddaivam Pancha Mukha Ganapathi and the Shasanams under them enlightened the above information.
The temple was renovated in 1704 by the then-Hereditary Trustee Sri Kodanda Ramo Dasahi, the Raja of Davarakota Estate. The raja gopuram in front of the temple was constructed in the year 1795 by the then Hereditary Trustee Sri Yarlagadda Nageswara Rao Naidu, the Raja of Davarakota Estate. The shasanam is fixed on the wall inside the Rajagopuram.
There is a tank on the Eastern, North, and western sides of the temple. It is stated that this tank was dug by Karkotaka of Nagulu, this is why the tank is called Nagagundam. There is Korkota Pratibha in the temple princess in support of legend. The Puranas referred to reveal that there is no rebirth to the people who take both in Krishna Uttaravahini and performed pooja in the temple. Vaideka Agama principles are followed for worship in the temple.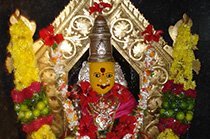 Timings to visit Sri Durga Nageswara Swamy Temple
06:00 AM – 01:00 PM | 04:00 PM – 08:00 PM
Temple Contact Number
08671 275230
How to Reach Sri Durga Nageswara Swamy Temple
By Air: Vijayawada International Airport – 86.7 km,
By Train: Repalle railway station – 23 km, Guntur – 81 km,
By Bus: Repalle – 24.8 km, Srikakulam – 39 km, vijayawada – 79 km, Avanigadda -16 km, Machilipatnam – 41
Address
Sri Durga Nageswara Swamy Temple, Pedakallepalli, Krishna District, Andhra Pradesh 521130, India.
pic credits & Official Website of Durga Nageswara Temple
'Also Read Place To Visit In And Around Krishna District
Pedakallepalli Hotels Booking
Sri Durga Nageswara Swamy Temple Map