About Sri Surya Narayana Swamy Temple 
It is a Sun temple situated in Gollala Mamidada Village, East Godavari District, and is situated on the banks of the river "Thulya Bhaga" (Antharvahini). Mamidada is called "Gopurala Mamidada".
In the year 1920, Jamindar of Gollala Mamidada dedicated service for the temple but also dedicated his life for the benefit and welfare of the public at large.
According to Saivagama, everyday Archana are performed. The performance of rituals in this temple is following Sri Vyshanava Sampradaya. The temple has been developed by raising structures and superstructures with the auspicious funds donated by the family members of the late founder.
Listen to Aditya Hrudayam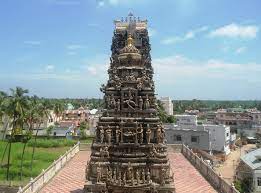 Timings to visit Sri Surya Narayana Swamy Temple
06:00 AM – 01:00 PM | 04:00 PM – 07:30 PM.
Pujas's/Sevas 
Sudda Ekadasi – July/August
Sravana Masam – August/September, Samoohika Kumkuma Archana Every Friday, Tuesday, And Fullmoonday.
Sri Krishna Janmashtami.
Aakasa Deepam – Aaswaeja Poornima To Karteeka Poornima.
Karteeka Masam.
Important days to visit 
Sundays, Makara Sankranthi, Ratha Sapthami.
How To Reach 
By Air: Rajahmundry Airport – 46 km, Visakhapatnam Airport – 170 km.
By Train: Anaparthy Railway station – 15.6 km, Rajahmundry Railway station – 43 km, Kakinada Railway station – 24 km
By Road: Kakinada – 22 km, Rajahmundry – 45.0 km, Anaparthy – 16.6 km, Vishakapatnam – 170 km.
Address
Sri Surya Narayana Swami, Dharma Daya Sakha, Gollalamamidada, Pedapudi Mandal, East Godavari District, 533344, Andhra Pradesh, India.
Also Read Place To Visit And Around East Godavari District
East Godavari Official Website Of Sri Surya Narayana Swamy Temple
Gollala mamidada Hotels Booking
Sri Surya Narayana Swamy Temple Map