About Thousand Pillar Temple
Thousand Pillar Temple is one of the historic Indian Hindu temple with three deities Lord Vishnu, Surya Deva and Lord Shiva.
Rudra Deva, the king, is thought to have given the order for the construction of the Thousand Pillar Temple between the years 1175 and 1324 CE. It stands out as a masterpiece, and the ancient Kakatiya Vishwakarma Sthapathis achieved tremendous heights in terms of architectural talent (Architect).
The Rudreshwara Temple, locally known as Veyisthambala Gudi (Thousand Pillars Temple), is one of the finest and earliest available examples of Kakatiya art, architecture, and sculpture. It was built by Rudra Deva and named after him as 'Sri Rudreshwara Swamy Temple, with the presiding deity as Rudreswara, in 1163 AD in the style of later Chalukyan and early Kakatiya architecture, star-shaped and triple shrined (Trikutalaya). The temple is a fine specimen of architecture and sculpture, with one thousand pillars. There are richly carved pillars, perforated screens, exquisite icons, rock-cut elephants, and the monolithic dolerite Nandi as components of the temple. With the strengthening of foundations like the sandbox technique, the skill of Kakatiya sculptors is manifested in adroit craftsmanship and flawless ivory carving technique in their art. The ingenuity of Kakatiya sculptors is visible in the likes of lathe-turned and shiny polished dolerite and granite stone sculpture and the craftwork of Nava Ranga Mandapa.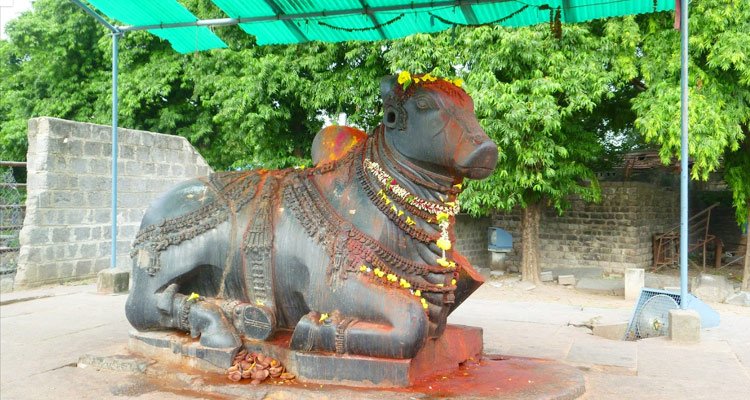 Timings to visit 
05:00 AM – 09:00 PM
How to Reach Thousand Pillar Temple
By Air:
Hyderabad – 172 km, Warangal – 19 km
By Train:
Warangal – 6 km, Hyderabad – 139 km
By Road:
Hyderabad – 150 km, Warangal – 4 km, Hanumakonda – 2km
Address
Thousand Pillar Temple or Rudreshwara Swamy Temple, 2H3F+FVQ, Warangal Highway, Raganna Darwaja, Rd, Brahmanawada, Hanumakonda District, Telangana, 506001
Also Read District Official website of Thousand Pillar Temple
Also Read Places to visit in Hanumakonda District
Hotels Near By
Thousand Pillar Temple Map