About Yagna Varaha Swamy temple, Karimnagar
Yagna Varaha Swamy temple, the presiding deity as an incarnation of Lord Vishnu in the form of a wild boar, is worshipped by devotees in large numbers in this tiny village of Kamanpur Mandal on the Manthani road in Karimnagar district.
Located adjoining Singareni open cast project amid thick greenery around, this is the only temple of Varaha Swamy in the country which is not installed in a sanctum sanctorum. The deity is found on a rock on a small hillock. Come rain or shine, the deity is worshipped in open by the devotees. This is the second Varaha Swamy temple in the country after Tirumala Tirupati Devasthanam (TTD).
Temple emerged some 600 years ago when the incarnation was very small the size of a rat. However, over the years, the incarnation of the god had grown to a height of two feet. It is believed that the incarnation of the god grows every year slightly and it has hairs also.
This temple is built as per traditional Dravidian Architecture. The center portion of the temple has a resemblance to the Hoysala temples. The original temple was built during the rule of the Vijayanagar Empire. Later restorations were done in various phases and currently, the temple has glory and dignity.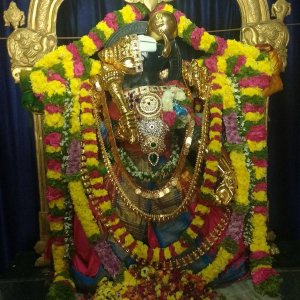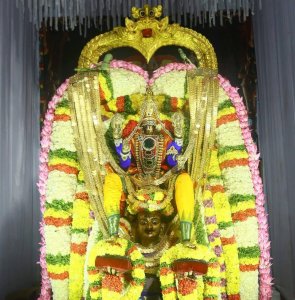 Timings to visit
06:00 AM – 12:00 PM | 05:00 PM – 08:00 PM
Festivals Celebrated
Devi Navaratri Brahmotsavam, Satya Narayana Vrathams, Pavitrotsavam, Vara Lakshmi Vratham, Varaha Jayanthi, Ganesh Chaturthi.
Best Time to Visit
During the Sravana Masam, the pilgrims visit in large numbers to offer prayers. It is believed that the presiding deity offers 'varalu' (fulfill the wishes) of the devotees and is hence called Aadhi Varaha Swamy.
How to Reach
By Air: Hyderabad-162km
By Train: Karimnagar Railway Station – 4.8 km, Basant Nagar – 50 km
By Road: Karimnagar – 5 km, Basant Nagar – 52 km
Address
Housing Board Colony, Karimnagar, Telangana 505001
Also Read About places to visit in Karimnagar District
Hotels Near By
Temple Map