About Kaleshwaram Muktheshwara Swamy temple
The most iconic aspect in this ancient temple is the presence of two Lingams holding on to a single pedestal or the Panavattam. The temple gets its name Kaleshwara Mukteswara Swamy mandiram because of the duel presence of Lord Shiva or the Mukteshwara and the other is the Lord Yama or Kaleshwar.
Kaleshwara Mukteswara Swamy temple is one of the three temples of Lord Shiva of Trilinga Desham. All three temples are considered as Jyotirlingas that ornament the three corners of Telugu Land. The other two temples constituting the Trilinga Desam are at the Draksharamam and Srisailam. The Jayashankar Bhupalpally temple boasts of several unique features, one of which is the hole in the Mukteshwara linga which can never be filled with water. However, there are a few indications of a possible underground passage that goes all the way to the River Godavari which could provide a logical explanation. Another special attraction of this temple is the interesting sculpture of the fish idol.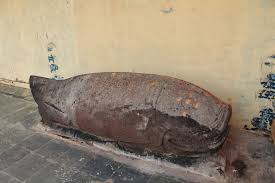 Timings to visit Kaleshwaram Muktheshwara Swamy temple
4:00 AM – 1:00 PM and 3:30 PM – 8:00 PM
How to reach Kaleshwaram Muktheshwara Swamy temple
By Air: Hyderabad Ariport to Kaleshwara Mukteshwara Swamy Temple – 265.2 km
By Train: Ramagundam railroad station – 95 km, Karimnagar Railway Station – 121 km, Warangal Railway Station – 115 km
By Road: Hyderabad – 277 km, Karimnagar – 125 km
Address
Kaleshwaram Muktheshwara Swamy temple , Gudi Road, Kaleshwaram, Bhupalapally District, Telangana, 505504.
Telangana Official Website Of Kaleshwaram Muktheshwara Swamy temple
Also Read Place To Visit In And Around Jayashankar Bhupalpally District
Kaleshwaram Hotels Booking
Kaleshwaram Muktheshwara Swamy temple Map