About Khammam Fort
Khammam Fort is located in Khammam District of Telangana. The fort was situated in a very vast area of  4 Sq. miles in the heart of the City of Khammam.
It is surrounded by a huge rock wall averaging between 40 and 80 feet in height and 15 to 20 feet in width. There are steps from each buruju (bastion) to enter into the fort. The main entrance is a 30 foot tall known as the Khilla darwaza. It has 2 cannons on either side of the entrance. The fort has 10 large gates. Each gate has cannons mounted on them along with a water pot made of rocks. They are built such that an impact of a cannonball could not break it. As soon as we enter the Khilla darwaza, one can see the Fort at a distance of 300 feet.
History
This fort was under the Kakatiya reddy kings for a very long period of 300 years. It is believed that the fort was built by Lakshma Reddy, Ranga Reddy and Velama Reddy of the Kakatiya dynasty in 950 A.D.  A 100-acre massive lake was constructed during this period to satisfy the drinking water needs of the city called the Lakaram lake, named after its builder Lakshma Reddy. The fort was served as an impregnable citadel during various regimes of different dynasties, including the Kakatiyas, Qutb Shahi's and Asaf Jahis. From Kakatiya rulers it was taken over by the Qutub Shahi rulers in 1512 A.D. Khammam fort fell into the hands of the Emperor Sri Krishnadevaraya during 1515 A.D.
The Fort and the City went into the complete control of the Government created by the Nizam's during the 1800s and by the time of the Asaf Jah VII, Mir Osman Ali Khan the fort was under complete control of the Government of Nizam in the year 1937.
It is believed that gold coins were unearthed from their farm near Khammam and after receiving the news, the Kakatiya king ordered them to build this Fort on the Hill in Khammam using those gold coins, which is known as the second capital of the kakatiya dynasty. In order to have a secured second capital due to the repeated attacks from the enemy kingdoms on the capital city Orugallu.
The fort is renovated by Tourism department and Archaeological Survey of India in 2005 during the 1000 year celebrations of this historical fort.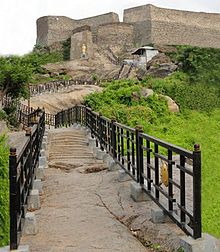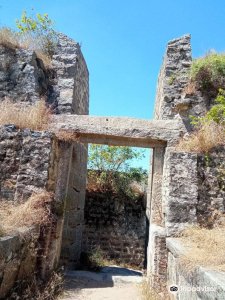 Timings to visit
6AM to 7PM
Best time to visit
Throughout the year
How to reach
By Air: The nearest International airport is Rajiv Gandhi International Airport located in Hyderabad (208 km)
By Train: Khammam is well connected to other major cities of the country via regular trains.
Railway Station: Khammam
By Road: You can easily get regular buses to Khammam from other major cities of the country.
Bus Station: Khammam
Address
Khammam Fort,  Fort Road, Nizampet, Khammam, Telangana 507001
Also Read About Government Official Website
Also Read About Places to visit in Khammam District
Also Read About Places to visit in Telangana
Hotels Near By
Khammam Fort Map