About  Mirzapur Hanuman Temple
Mirzapur Hanuman Temple is one of the famous temple located in Madnoor village. This Place is in the border of the Nizamabad District and Nanded District.
According to the history, this temple was built 400 years ago. Samartha Raju who is the guru of Chatrapathi Shivaji has placed the Hanuman at this place. Usually the Hanumon idol will be in orange colour but the speciality of Mirzapur Hanuman is the idol will be in black colour, so it is believed that the sani dosham will be removed if u visit the temple.
Devotees also perform Satyararayana vratham, Keshakandanam at this temple. On occasion of Hanuman Jayanthi an Jathara will be conducted for 3 days.
Many temples are located in Madnoor village such as Balaji Temple, Santhoshi Matha mandir, Saibaba Temple, Somalingal, Nagareshwar Mandir, and Pochamma Temple. The devotes come here from Marahashtra, Karnataka and Telangana state.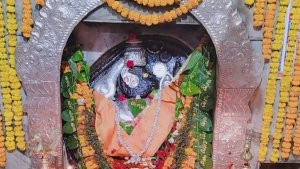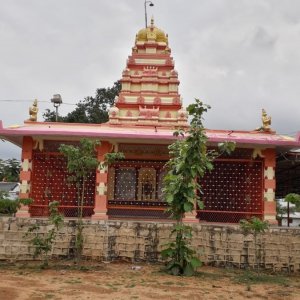 Best time to visit
Hanuman Jayanthi
How to reach
By Air: The closest airport is Shri Guru Gobind Singh Ji Airport Nanded, at a distance of 90km and from Rajiv Gandhi International Airport Hyderabad, at a distance of 198km from Madnoor.
By Train: You can reach Kamareddy from Secundrabad(SC) or Kacheguda(KCG). Secundrabad to Kamareddy train takes approximately 2 hours 15 minutes. You can also reach from Nizamabad Railway Station.The nearest Railway station to madnoor is Bodhan railway station.
By Road: Mirzapur village is nearly 2.8 kms from Madnoor mandal, 44 kms from Banswada, 101 Kms from Kamareddy District and It is located 67 KM towards west from Nizamabad and is accessible by road.
Address
Mirzapur Hanuman Temple, Mirzapur village, Madnoor mandal, Shahapur, Kamareddy District, Telangana 503309
Also Read About Government Official Website
Also Read About Places to visit in Kamareddy District
Also Read About Places to visit in Telangana
Hotels Near By
Temple Map