About Nagoba Jatara
Nagoba Jatara, Adilabad is a tribal festival held in Keslapur village, Inderavelly Mandal, Adilabad district, Telangana, India. It is the second biggest tribal carnival and is celebrated by the Mesaram clan of the Gond tribe for 10 days. Tribal people from Maharashtra, Chhattisgarh, Orissa, and Madhya Pradesh belonging to the Mesaram clan offer prayers at the festival Nagoba. It starts in Pushya Masam.
The 10-day festival began after tribal priests performed abhishekam to the Nagoba idol at the Keslapur with water fetched by them from river Godavari in Jannaram Mandal, 70km away from the village.
Nagoba Jatara Celebrations
Rituals performed at Keslapur Nagoba Jatara begin in the morning, the Mesaram elders will place the sacred "jhari", a 1400-year-old water container before performing its puja. The group of Gond and Pradhan elders who had fetched holy water with pots from Hastina Madugu of river Godavari in Jannaram Mandal was given a traditional welcome under the old banyan tree. Before the pujas start, the Gonds continue to purify the temple with Ganga Jal or water from the Godavari drawn at a spot called " Hastina Madugu" where Nagoba is believed to have quenched his thirst after partaking in the "naivedyam". The event also includes a ceremony called 'bheting', which incorporates new brides into the clan. The Raj Gond Adivasis of Adilabad follow an elaborate ritual called bheting, one of their many realistic ceremonies, through which new daughters-in-law are formally introduced.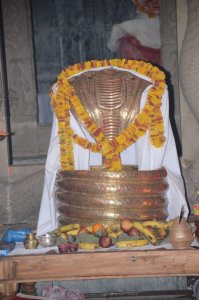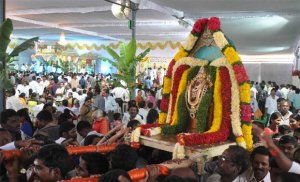 Best time to visit
January-February
How to reach 
By Air: Hyderabad-326km
By Train: Karimnagar-183km, Warangal-235km
By Road: Adilabad-32km,UtnoorTaluk-25km.
Address
Nagoba Temple, Keslapur village, Inderavelly Mandal, Adilabad district, 504346, Telangana, India.
Also Read About Official Website Of Nagoba Jatara, Adilabad
Also Read About places to visit in Adilabad District
Hotels Near By
Temple Map