About Pandavula Guttalu, Telangana
Pandavula Guttalu, Telangana is the place where the Pandavas spent their life in exile for a certain period of time. a series of hillocks running north to south known as Pandava Guhalu (Caves) or Pandava Guttalu (Hills).
The name is derived due to the portrayal of the story of the Pandavas of Mahabharatha on one of the boulders. The shelters are locally known as Mekkabanda, Mugessabanda, Pandi Parvatha, Shakthi Parvatham, Jyothi Parvatham, Puli Parvatham, and Yanadula Guha, Eduru Pandavulu, Kuntidevi, Pancha Pandavlu, etc.
It is a unique rock art site with continuous human occupation right from prehistoric to Medieval times. A few natural paintings on these rocks depict the lifestyle and their hunting methods. The figures depicted in the pictures of these hills are peacocks, lizards, tigers, frogs, fishes, deer, etc., and geometrical designs and impressions in green, red, yellow, and white pigment colors. Besides these rock paintings, inscriptions from Rastrakutan times and fresco paintings of the late medieval period have also been reported from these hillocks. Some of the images were superimposed, depicting highly developed anatomical features and curves.
Rock art is a form of landscape art and includes designs placed on boulders and cliff faces, cave walls and ceilings, and on the ground surface. Paleolithic rock art paintings are found at Pandavula gutta near Redonda.
It's a global phenomenon, being found in many different regions of the world. Such artworks are often divided into three forms: petroglyphs, which are carved into the rock surface; pictographs, which are painted onto the surface, and earth figures, engraved into the ground. The study of rock art gives us a good insight into our history from the prehistoric ages.
Apart from this, there are a lot of rocks to climb.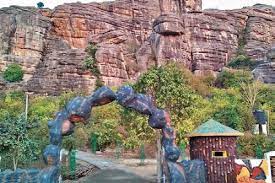 Timings to visit
06:00 AM – 06:00 PM
Best Time to Visit
August – December
How to reach
By Air: Hyderabad – 150 km
By Train: Warangal Railway station – 56 km, Hyderabad-164 km
By Road: Warangal – 55 km, Regonda – 3 km
Address
Pandava caves or Pandavula Guttalu, Kothapally, Jayashankar Bhupalpally district, Thirumalagiri, Telangana 506348
Also Read Official Website Of Pandavula Guttalu
Also Read Places To Visit In Jayashankar Bhupalpally District
Hotels Near By
Pandavula Guttalu Map