About Sri Subrahmanyeswara Swamy Temple
According to holy texts, Vindhya Mountain, at one time became overconfident of its strength and began to grow upwards. It went up to the planet Ravi. With this, darkness surmounted all over and all mortals and immortals including every flora and fauna suffered in darkness.Gods prayed to Sage Agasthya to somehow humble the Vindhya Mountain. Sage Agasthya is known to have attained divine powers through severe penance. He was staying in Varanasi at that time.
He, accepted the request of Devas, Sage Agasthya started towards the mountain Vindhya from Northern India. Vidhya Mountain is the border between North India and South India. Knowing in advance about the arrival of Sage Agasthya, the Vindhya Mountain humbled himself to the lowest level so as to give way to the sage.
While crossing the Vindhya Mountain, Sage Agasthya has taken a promise from Vindhyaa to be in a humbled state till he returns from his tour of Southern India. But the sage did not return. He settled in South India. Waiting for ages together, Vidhya Mountain remained humbled even today.Sage Agasthya along with his retinue had the occasion to pass through the place, where Lord Subrahmanyeswara did severe penance. He identified the place and said that this area is covered by Tigers and from here if we go towards the Eastern direction, one can find the divine temple of Lord Kumaraswamy known as Subrahmanyeswara.
The presiding deity of Vijayawada Kanaka Durga rides on Tiger. Lord Subrahmanyeswara is the son of Lord Shiva and Goddess Parvathi. While Lord Subrahmanyeswara was in her womb, Goddess Parvathi could not bear the power of the fetus and hence transferred the same to Ganga Devi. Ganga also could not bear the power of the fetus and hence the fetus slipped into the reed grass.
Six female minor deities called Krittika took care of the embryo. Imbibing the strengths of both Lord Shiva and Goddess Parvathi, Lord Subrahmanyeswara was born in the month of Margasiramasam on Shashti day of waxing Moon with six heads, twelve hands, a lot of brilliance, luster, and the radiance of Sun. Devotees especially worship Lord Subrahmanyeswara on the days of Ashada Sukla Panchami, Naga Panchami, Nagaula Chaviti, and Shashti.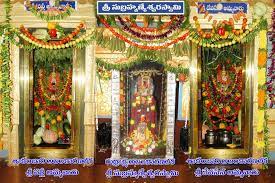 Timings to visit Sri Subrahmanyeswara Swamy Temple
5:30 AM – 01:00 PM | 04:00 PM – 08:00 PM
Pooja Details
| | |
| --- | --- |
| Daily Sevas | Cost |
| Abhishekam (2 persons) | 100/- |
| Rudrabhishekam (2 persons) | 516/- |
| Shanti Kalyanam | 1116/- |
| Sarpa Dosha Nivarana Pooja | 500/- |
| Namakaram, Aksharabhyasam, Annaprasana | 150/- |
| Sahasra Naamarchana, Swarna Bilvarchana, Unjal Seva | 100/- |
| Nagasila Prathista Pooja | 25,116/- |
| | |
| --- | --- |
| Saswatha Schemes | Cost |
| Saswatha Kalyanam (yearly once) | 10,000/- |
| Saswatha Abhishekam (yearly once) | 3,500/- |
| Saswatha Annadhana | 5,116/- |
Festivals celebrate at Sri Subrahmanyeswara Swamy Temple
Ashtotharam on Every Month of Kirthika Star
Brahmotsavams
Maha Sivaratri
Ugadi
Ashada Kruthika (Adi Kruthika in Ashada Masam)
Nagula Chaviti
Laksha Bilvarchana in Karteekamasam
Vinayaka Chavithi
Vijaya Dasami
Jwala Thoranam
Sri Subrahmanya Sashti
Temple Contact Numbers
Sri Subrahmanyeswara Swamy Temple – (08671) 257240, (08671) 257370
Sri Durga Nageswara Swamy Temple – (08671) 275230
Sri Kakuleswara Swamy Temple – (08671) 255238
How to Reach Sri Subrahmanyeswara Swamy Temple
By Air: Gannavaram Vijaywada Airport – 65 km,
By Train: Repalle railway station – 12 km, Guntur – 70 km,
By Bus: Repalle – 11.8 km, Srikakulam – 18 km, vijayawada – 77 km, Avanigadda – 7 km, Machilipatnam – 30
Address
Sri Subrahmanyeswara Swamy Devasthanam, Mopidevi Village, Mopidevi – Mandal, Krishna District. Pin – 521125, Andhra Pradesh, INDIA
Official Website Of Sri Subrahmanyeswara Swamy Temple
Also Read Place To Visit In And Around Krishna District
Mopidevi Hotels Booking
Sri Subrahmanyeswara Swamy Temple