About Tirumala Venkateswara Swamy Temple, Thimmapur
Tirumala Venkateswara Swamy temple, Thimmapur is popularly known as the Telangana Tirumala, situated on the outskirts of Thimmapur village in Birkoor mandal of Kamareddy district. As part Telangana Districts re-organisation , Thimmapur Village Birkoor Mandal re organised from Nizamabad District to Kamareddy district. About 74 years ago the statue of Venkateswara Swamy was built. During the past decade, the temple has seen a rise in its popularity, similar to Venkanna Konda.
Thala neelala samarpana(giving hair to God) is also present at this temple. A kalyanakattu was present for this purpose.
There is a pond near to Thimmapur Village. In recent times Telangana Government developd the pond as Mini Tankband and started boating and Named it as Ankamganj lake boating point.
Thimmapur Village is surrounded by Banswada Mandal towards South , Bichkunda Mandal towards West ,Kotagiri Mandal towards North and Varni Mandal towards East.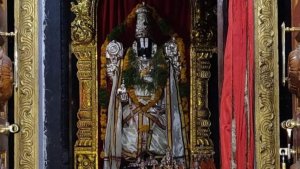 Timings to visit
5.00AM to 8.00PM
Best time to visit
Throughout the year
Boating Cost
For Adult: 50/-
For Children: 30/-
How To Reach
By Air: The closest airport is the Rajiv Gandhi International Airport in Hyderabad, at a distance of 191km.
By Train: By train you can reach Kamareddy from Secundrabad(SC) or Kacheguda(KCG). Secundrabad to Kamareddy train takes approximately 2 hours 15 minutes. You can also reach from Nizamabad Railway Station. The nearest Railway station to Thimmapur is Bodhan railway station.
By Road: Thimmapur village is nearly 4.5 kms from Birkur mandal, 26 kms from Banswada, 85 Kms from Kamareddy District and it is located Nearly 50 kms from Nizamabad and is accessible by road.
Address
Tirumala Venkateswara Swamy Temple, NH 44, Rk Colony, Thimmapur, Kamareddy District, Telangana 509325
Also Read About Government Official Website
Also Read About Places to visit in Kamareddy District
Hotels Near By
Temple Map