About Trilinga Rameshwara Temple
Trilinga Rameshwara Temple is one of the famous temple located in Kamareddy District of Telangana. The Temple is dedicated to Lord Shiva. It is believed that the 3 Lingam Rama, Bheema and Soma are installed here by Lord Rama, Lakshmana and Seetha. Lord Shiva here is known as Bheemeshwara Swamy.
One can observe the 3 temple Gopuram on the wall of the temple entrance which is white in colour and which is of its own Architectural importance. On the entrance one can find the idols of two females of the Kakatiya times besides that one can find the designs in green colour which very good to watch at.
While one travels in this road one can find the area is surrounded by green trees, paddy fields, lake filled with water, white cows around the temple which gives you a feeling of complete village atmosphere.
This temple is constructed only with Stone and no cement or mud is used for the construction of this temple. It is said that Chalukyas have constructed this temple and later on Kakatiyas have completed the construction of this temple. In whichever side you see one can see that this temple looks like Shiva Linga itself, when one sees the Architectural beauty of this temple one can easily estimate that this temple belongs to 11th Century. From 1978 this temple has been reconstructed and many changes have been done after King Kini came into picture.
One can find the idol of Nandi in front of this temple the Architecture on the Nandi is extraordinary. The Nandi when touched gives you feeling of touching a real Nandi. The sunlight falls directly on this Shiva Linga in the morning. On opposite of this temple one can find a Hill called Veeranna Gutta and it is believed that from this temple there is a pathway to reach that Hill.
One of the Shiva Linga was destroyed in between but later on they got one more Shiva Lingam from Kashi and got it installed at this place.  There is a Manjeera river which flows opposite to this temple which looks like Shiva Linga itself when observed from the top. One can also find the idol of Shiva and Parvathy made with black stone inside the temple. The special poojas performed in this temple is Laksha Bilwarchana and there are special poojas which are conducted on Mahashivaratri and Karthika Pournami.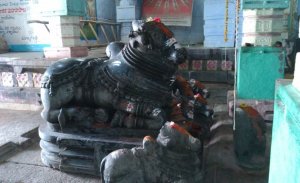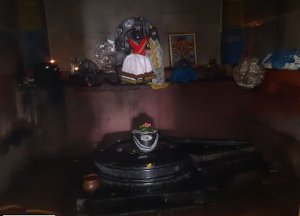 Best time to visit
Mahashivaratri and Karthika Pournami.
How to reach
By Air: The closest airport is the Rajiv Gandhi International Airport in Hyderabad, at a distance of 175km.
By Train: You can reach Kamareddy from Secundrabad(SC) or Kacheguda(KCG) by travelling in a train. Secundrabad to Kamareddy train takes approximately 2 hours 15 minutes.
By Road: Tandur village is 48.5 kms far away from Kamareddy Town. It is 6.6 km away from Nagireddypet Mandal and it is accessible by road.
Address
Trilinga Rameshwara Temple, Tandur Village, Nagireddypet Mandal, Kamareddy District, Telangana, 503108
Also Read About Government official website
Also Read About Places to visit in Kamareddy District
Also Read About Places to visit in Telangana
Hotels Near By
Temple Map