About Yadagiri Gutta Temple – Sri Lakshmi Narasimha Swamy
In Treta Yuga, there lived a sage by the name of Yadarishi, son of the great sage Rishyasrunga and Santa Devi who did penance inside a cave with the blessings of Anjaneya on this hill between Bhongir and Raigiri. Pleased with his deep devotion, Lord Narasimha, an incarnation of Lord Vishnu appeared before him in five different forms as Sri JwalaNarasimha, Sri  Yogananda,  Sri Gandabherunda, Sri Ugra, and Sri  Lakshminarasimha. All these five forms are presently worshipped within the temple. They later manifested themselves into finely sculpted forms that later came to be worshiped as Pancha Narasimha Kshetram.
There are Purana and traditional accounts of this Shrine, which are widely popular among the devotees. There is mention about the origin of this temple in the Skanda Purana, one of the famous 18 Puranas. Glowing bright atop the sikharam of garbha griha of this cave temple is the golden Sudarshana Chakra of Lord Vishnu, the adornment, as well as the weapon, is a symbol this temple is identified by from as far away as 6 km.
It is said that many years ago the chakra moved in the direction from which the devotees came as if like a compass guiding them towards the temple. The Chakra Considered to posses mystic power and value, at times turns on its own; no human hand is capable of turning it.
Another Legend also has it that Sriman Narayana, pleased with Yada's penance, sent Sri Anjaneya to direct the rishi to a holy spot, where the Lord appeared to him in the form of Sri Lakshmi Narasimha. This spot is marked by a temple located at the foot of the Yadagiri hillock and is located about 5 km from the present temple. There the sage worshiped the Lord for many years.
After Yadarushi attained moksha, many tribals, hearing of the Lord's presence, came to worship Him at this temple. But, not being very learned, these devotees began to engage in improper worship. Because of this, Sri Lakshmi Narasimha moved into the hills. The tribals searched for many years to find their Lord, to no avail. After many years had passed, the Lord appeared in the dream of a devout lady among the tribe, directing her to a large cavern wherein He revealed Himself to all as five majestic Avatars.
There is an ancient Inscription at kolanupaka Jayadevuni Narayana Swamy Temple saying that  After christ in the year 1148 The King Tribhuvan   Malla win the bottle in Telangana  He Established a fort on Ekashila Hillock at Bhongir in respect of his  Victory in Telangana. At the same time, he visited lord Lakshmi Narasimha Swamy several Times.
In the 15th Century the Vijayanagara Samrajya Samrat Sri Krishnadevaraya wrote in his autobiography that while going to war he Visited the temple and prayed to the Lord for victory and also he got a son on the mercy of Lord Nrusimha Swamy.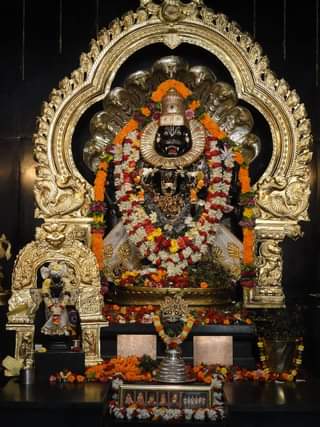 Timings 
05:00 AM – 08:45 PM
Sevas
Seva
Timings
Cost
Suprabhata Seva
4.00 am to 04.30 am
50/-
Nijabishekam
5.30 am to 06.30 am
250/-
Nijabishekam ( Couple)
5.30 am to 06.30 am
500/-
Sahasra Namarchana
6.30 am to 07.15 am
216/-
Kunkumarchana ( Friday)
(at Ustava Mandapama)
08.30 am to 09.00 am
100/-
Sri Sudershana Homam
8.00 am to 10.00 am
1,116/-
Kalyanothsavam
9.00 am to 11.30 am
250/-
Jodu Seva
5.00 pm to 06.45 pm
500/-
Pavalimpu Seva
9.00 pm to 09.30 pm
50/-
1 day Bramhostvam
9.00 am to 11.30 am
2,001/-
3 days Bramhostvam
9.00 am to 11.30 am
2,516/-
5 days Bramhostvam
9.00 am to 11.30 am
3,516/-
Anjaneya Swamy Akupuja (Tuesday )
9.00 am to 11.00 am
316/-
Sri Ammavari Lakshaa Tulasi Archana
7.30 am to 09.00 am
2,500/-
Shathagatabhishekam
(Swathi Nakshathram only)
04.30 am to 07.00 am
750/-
Festivals celebrate at Yadagiri Gutta Temple
Annakutothsavam, Narasimha Jayanthi, Vaikunta Ekadasi, Swathi Nakshatram, Sravana Masam, Navaratri
Temple Contact Number
08685 – 236622,  08685 – 236623
How to Reach Yadagiri Gutta Temple
By Air: Rajiv Gandhi International Airport – 93.5 km,
By Train: Raigiri Railway Station – 6 km, Nalgonda – 55 km,
By Bus: Bhongiri Bus station – 13 km, Hyderbad – 60 km, Suryapet – 88 km
Address
Yadagiri Gutta Temple, Yadadri Temple Ghat Rd, Gandhi Nagar, Yadagiripally, Yadadri Bhuvanagiri District, Telangana, 508115.
Also Read Place To Visit In And Around Yadadri Bhuvanagiri District
Yadagiri Gutta Temple Hotels Booking
Yadagiri Gutta Temple Map