About Lakshmi Narasimha Swamy Temple Nampally Gutta
Lakshmi Narasimha Swamy Temple Nampally Gutta is located in Nampally Village, Karimnagar near Vemulawada. This area is ruled by Sri Rajarajanarendra by the centre of nampally villege. One day lord shiva came to his dream when he was a laper and told to build a temple for him at the middle of vemulawada and disappeared. The little temple doesn't look like an ancient one and is attached to a huge rock, which indicates to a probable idol, that was carved out of the rock, around which the temple was built. At the entrance of the temple, you can find a statue of Lord Narasimha breaking his way out of a pillar.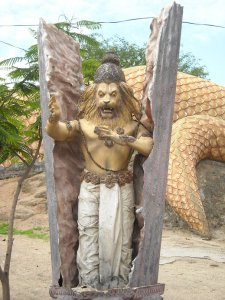 There is a temple for Naga Devatha on the way to the Narasimha temple. The temple was built in a model of Snake. Visitors can enter the shrine through the snake's belly – a long, winding tunnel. There are statues depicting the story of Prahalada and Hiranyakasipu. At the end of the tunnel, the statue of Lord Narasimha killing the demon Hiranyakasipu is present.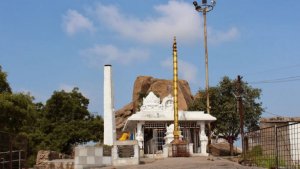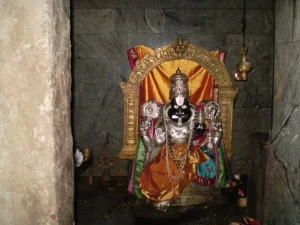 Timings to visit
How to reach
By Air: The nearest Airport is Hyderabad Rajiv Gandhi International Airport at a distance around 150Kms. Estimated travel time travelling from from Rajiv Gandhi International Airport Hyderabad to Nampally is 3 hours and 57 minutes by road.
By Train: The nearest Railway stations is at Karimnagar and Kamareddy .Karimnagar is located at a distance of 22.7 kms and Kamareddy is located at a distance of 66.5 kms.
By Road: There are frequent buses to Rajanna Sircilla district run by Telangana State Road Transport Corporation (TSRTC) connecting to Hyderabad ,Karimnagar, Jagityal, Siddipet, warangal, kamareddy, Nizamabad. Buses can be availed from all important towns and cities up to Rajanna Sircilla distrcit and from there we can reach Nampally through various means of transport on road that are auto, bus, car.
Address
Lakshmi Narasimha Swamy Temple Nampally Gutta, Lakshmi Narsimha Gardens&Function Hall, SH 11, Anupuram New, Rajanna Sircilla District, Telangana 505302
Also Read About Government Official Website
Also Read About places to visit in Rajanna Siricilla District
Hotels Near By
Temple Map